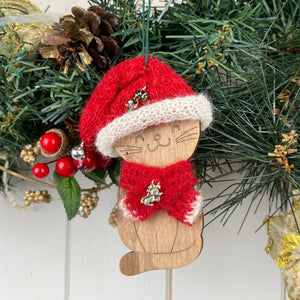 Christmas Cat Decoration Knitting Kit
This sweet little Christmas Cat Decoration Knitting Kit will make a perfect small gift that is sure to delight any knitter. The beautifully detailed wooden Cat is dressed with a festive red and white traditional hat & scarf enhanced by a sweet little mouse charm and enameled charm.
The yarn used in the kit is our 'Shades of Weardale' 1ply which is made from Romney/Shetland which we have sourced from farms throughout the UK and had spun for us at Halifax Spinning Mill in Yorkshire before being hand dyed by ourselves. The wooden templates (which are made locally for us) are laser etched onto sustainable FSC approved poplar ply.
The kit includes pattern with full instructions, wool, wooden cat template, hanging cord and charms
Size when finished 3ins (7.5cm) x 2.5ins (6cm) approx.
Difficulty - Knowledge of basic stitches/simple shaping/colour work