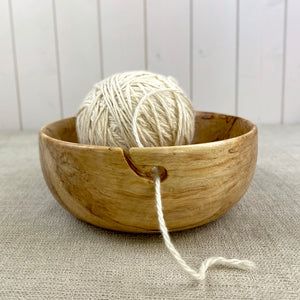 Hand Turned Yarn Bowl in Spalted Beech
Fashioned from beautiful locally sourced Spalted Beech this stunning yarn bowl has to be seen and handled to be fully appreciated.
Turned locally for us by Graham Addison, who makes our Yarn Servers and Swifts, this  bowl is big enough to easily take a large ball and heavy enough to be stable in use.
The bowl started life as a block of Spalted Beech left to season naturally for 18 months before being expertly turned into shape with the yarn guide then being cut into the front of the bowl. It was then meticulously sanded and multiple coats of liquid wax applied before the final polishing process, enhancing the beautiful detail of the grain and giving a durable smooth finish to the bowl.
Diameter :18cm (approx 7ins) Height 10cm (approx 4ins) Weight : 800g