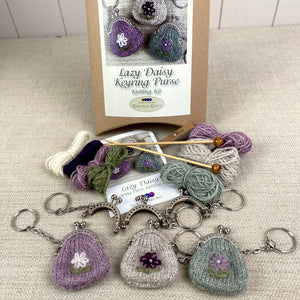 Lazy Daisy Keyring Purse Knitting Kit
Incorporating a lovely little knitting project and a bit of simple embroidery this sweet little kit makes 3 Keyring Coin Purses using our Shades of Weardale Merino 4ply.
The kit makes one clover purse, one fawn purse and one green purse and includes the pattern, wool, purse frames, beads and a pair of custom made mini bamboo needles all presented in a smart kraft pillow box.
Difficulty: Easy, knowledge of basic knitting stitches, simple shaping & embroidery stitches required.
Design:  Tricia Fothergill