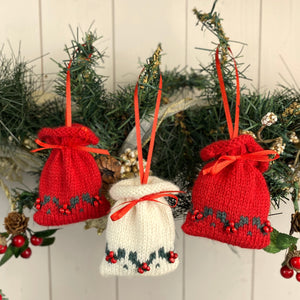 Mini Holly Berry Gift Bag Decoration Knitting Kit
This gorgeous little Holly Berry Bag Decoration Knitting Kit will make a perfect gift that is sure to delight any knitter. A set of three mini gift bags, all adorned with wooden berries and perfect for hanging on the tree holding small sweets or treats. 
The yarn used in the kit is our 'Shades of Weardale' 4ply which is a Merino Wool spun in the UK and hand dyed by ourselves. 
The kit includes pattern with full instructions for knitting flat or in the round, wool, ribbon and wooden beads.
Size when finished 4ins (10cm) x 2.75ins (7cm) approx.
Difficulty Intermediate - Knowledge of knitting in the round / fair isle.