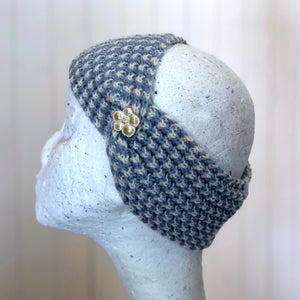 Ribbed Headband
This appealing headband is made using an easy knit rib stitch, finished with a twist and a button of your choice.
Design: Tricia Fothergill
Requires: 2 colours x 20g Natural Knits 4ply (striped headband), 1 colour x 40g Natural Knits 4ply (plain headband), 1 Pair 3.50mm(US4) Knitting Needles, decorative button.
Size When Finished: 48cm x 8.25cm (19in x 3.25in) approx 
Difficulty - Easy/Intermediate - basic stitches/simple colour work
All of our patterns on the website are available as PDF downloads only. On completion of payment you will be able to download the PDF pattern directly onto your device. If you enter your email in the contact details when you checkout you will be sent a link to the download enabling you to re-download it as many times as you wish.